Summer Office Hours
During the summer, the church office will be open Monday, Wednesday, and Friday from 10:30 am. to 3:30 pm each week. The church email and voicemail will be checked regularly on Tuesday and Thursday.
This Week at Messiah:
Assistance Ministry will be held every Monday from 11:00 am to 1:00 pm.

Assistance Ministry is in need of men's t-shirts and jeans for the clothing donation station. Clothing of all sizes is accepted, but large or extra-large sizes are in higher demand. You can leave the donations by the table in the donation area.

The July meeting of the Executive Committee will be Monday, July 15th at 7:30 pm in the Library.

The July meeting of the Child Care Center board will be Tuesday, July 16th at 6:00 pm in the Library.

You still have time to choose a favorite hymn or hymns to sing during summer worship. Talk with Bill Decker after worship, write your suggestions on the pew pad when you mark your attendance, or send Bill an email at messiahmusic1605@gmail.com. Let him also know if you would be interested in singing or playing an instrument at worship in solos, duets, quartets, etc.
Looking Ahead
July 25th - Messiah Book Club
July 28th - Quilts & Kits
August 10th - Brotherhood Breakfast
August 13th - CCC board meeting
August 18th - Quits & Kits
August 19th - EC meeting
---
Quick Links
Manna Order (Updated via MannaGroup website)
ELCA Links
---
---
Want to use our space for an upcoming event? Click HERE to download our Use of Facilities Policy and Application. For photos and description of our useable spaces, CLICK HERE for a spec sheet.
Can't find what you are looking for? Visit our Site Map.
GREETINGS!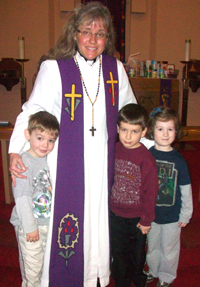 Our congregation was officially organized on May 7, 1954 with 35 people present. Since then, Messiah has thrived in the community, and has strived to make Christ's love known to all who enter our doors – through worship, through education, through our facilities, and through fellowship.
Thank you
for your interest in us. If you would like to learn more about us, or would like to become a part of the fellowship of Jesus Christ here at Messiah, please contact our pastor, either in person, by phone, by email, or with a letter. We look forward to hearing from you!