Summer Office Hours
During the summer, the church office will be open Mondays, Wednesdays, and Fridays from 10:30 am. to 3:30 pm each week. The church email and voicemail will be checked regularly on Tuesdays and Thursdays.
This Week at Messiah:
Assistance Ministry will be held every Monday from 11:00 am to 12:30 pm.

The Executive Committee will be meeting tomorrow, September 16th at 7:30 pm in the Library.

At Messiah, we share our building with two other congregations; Hope Adventist and Hope Korean Baptist. The three congregations have different traditions but we are united in God's love. On Friday, September 20 from 7:00 – 9:00 pm Messiah will be hosting an Inter-Congregational Gathering with Hope Adventist and Hope Korean and all are welcome to attend. The evening will start off with a potluck dinner. After dinner, the different congregations will gather to share a little about their faith, traditions, backgrounds, and music used in their worship services. There also will be a chance to ask questions. It's an opportunity to meet and break bread with our brothers and sisters in Christ who share Messiah's facilities and learn about our mutual witness to God.

Quilts & Kits will be meeting Sunday, September 22nd following the worship service. They will complete assembling the school kits for Lutheran World Relief. Please meet in the Friendship Place to join the assembly line!
Looking Ahead
September 29th - Pet Blessing

September 30th - Lutheran World Relief box packing
---
Quick Links
Manna Order (Updated via MannaGroup website)
ELCA Links
---
---
Want to use our space for an upcoming event? Click HERE to download our Use of Facilities Policy and Application. For photos and description of our useable spaces, CLICK HERE for a spec sheet.
Can't find what you are looking for? Visit our Site Map.
GREETINGS!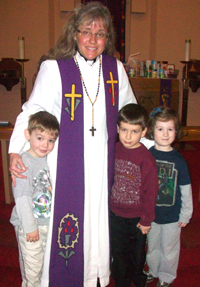 Our congregation was officially organized on May 7, 1954 with 35 people present. Since then, Messiah has thrived in the community, and has strived to make Christ's love known to all who enter our doors – through worship, through education, through our facilities, and through fellowship.
Thank you
for your interest in us. If you would like to learn more about us, or would like to become a part of the fellowship of Jesus Christ here at Messiah, please contact our pastor, either in person, by phone, by email, or with a letter. We look forward to hearing from you!