CAR WASH – Originally scheduled for this Saturday the 19th is RESCHEDULED to
JUNE 2nd! 10 am to 1 pm!
Youth Car Wash to raise funds for National Youth Gathering – Come and get your car washed!
This SUNDAY!! May 20th
We Celebrate Pentecost!
Pentecost commemorates when the Holy Spirit descended onto the apostles and laid the foundation for what would become Christianity.
WEAR RED!!!
We also celebrate the Confirmation of
Evelyn Claire Allemeier!
Congratulations to Evelyn for her hard work and dedication.
Quilts & Kits
Join us after Evelyn's celebration to assemble quilts and items for kits for Lutheran World Relief!
Remember – no sewing experience necessary! And we do have band aids just in case!
Seeking New Office Manager!
Position Description Summary
Reporting to the Pastor, the office manager manages effective church office operations in collaboration with church staff, members, and child care center staff and families according to Church policies and procedures; works with the Worship Planning Team to prepare and distribute all worship materials; collects, organizes and maintains records pertaining to the church; and performs effective written and verbal communication functions to inform and notify appropriate parties.
Position Qualifications
●Ability to communicate in a welcoming, positive manner in such a way as to serve as an effective representative of the church staff and congregation.
●Excellent organizational skills and attention to detail.
●Proficient in Microsoft Word, Excel & Power Point.
●Capable of learning church specific software such as Shepherd's Staff.
●Ability to use and connect with congregants over social media.
●Good written communication skills.
●Ability to multi-task, set priorities and adjust focus as needed.
●Ability to work independently and make decisions based on church policies and procedures.
●Ability to effectively manage multiple pieces of information and apply to the great success of the congregation.
Hours & Compensation:
The office manager position is a part-time hourly employee who will work an average of 25 hours per week, preferably from 9-2 on weekdays, with the ability to flex time up or down according to church activities. Position pay starts at $15.00/hour with possible adjustment commensurate with experience. The position will receive 10 days paid time off and sick days their first year, 15 after five years, and 20 after ten years.If you know of anyone who has the qualifications outlined on the back of this sheet – please pass along the following contact information:
For more information and/or to submit an application & resume:
Messiah is a lively, interesting and rewarding environment – maybe you know someone who would be a great fit!!
---
Quick Links
Manna Order (Updated via MannaGroup website)
ELCA Links
---
---
Want to use our space for an upcoming event? Click HERE to download our Use of Facilities Policy and Application. For photos and description of our useable spaces, CLICK HERE for a spec sheet.
Save form to your desktop, fill in the application on page 3, and email completed form back to office@messiahparkridge.org.
---
Can't find what you are looking for? Visit our Site Map.
GREETINGS!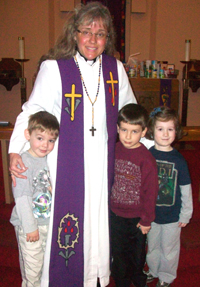 Our congregation was officially organized on May 7, 1954 with 35 people present. Since then, Messiah has thrived in the community, and has strived to make Christ's love known to all who enter our doors – through worship, through education, through our facilities, and through fellowship.
Thank you
for your interest in us. If you would like to learn more about us, or would like to become a part of the fellowship of Jesus Christ here at Messiah, please contact our pastor, either in person, by phone, by email, or with a letter. We look forward to hearing from you!