There is A LOT happening at Messiah in August!!
Brotherhood Breakfast on Saturday, August 11th at 9:00 a.m at Jimmy's on Rand Road in Des Plaines

Child Care Center will be closed August 13-17 for cleaning and preparation for fall session. Open House for fall session will be Monday, August 20th from 5:30-7:30 and fall classes start on the 21st!

Final WOW Service on Wednesday, August 15th - Dinner at 6:00 p.m. and Service at 7:00! Outdoors weather permitting! Join us on Route 66!!

Backpack & Teacher/Student "Back to School Blessing" during worship on Sunday, August 19th!

Quilts & Kits meet after worship on Sunday, August 19th! Back to School sales have started - we need A LOT of 70 page, single subject spiral notebooks for the School Kits - be on the lookout! Meijer, Staples & Walmart often have them for 25 cents each. We also need bars of 4-oz soap for the Personal Care Kits!
JOIN US!!
---
Quick Links
Manna Order (Updated via MannaGroup website)
ELCA Links
---
---
Want to use our space for an upcoming event? Click HERE to download our Use of Facilities Policy and Application. For photos and description of our useable spaces, CLICK HERE for a spec sheet.
Can't find what you are looking for? Visit our Site Map.
GREETINGS!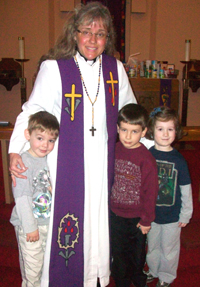 Our congregation was officially organized on May 7, 1954 with 35 people present. Since then, Messiah has thrived in the community, and has strived to make Christ's love known to all who enter our doors – through worship, through education, through our facilities, and through fellowship.
Thank you
for your interest in us. If you would like to learn more about us, or would like to become a part of the fellowship of Jesus Christ here at Messiah, please contact our pastor, either in person, by phone, by email, or with a letter. We look forward to hearing from you!