NEW RAILINGS!
Workers from JB Metal Works in Des Plaines install railings on the main walkway into Messiah Lutheran Church on Wednesday morning. Steve Burval, owner of the company and former member of Messiah, has donated the railings and installation.
December Schedule
Sunday, Jan. 14, 2018
Worship and Communion
News Items
Please join us for some food, family time, and fundraising!
Messiah Lutheran Child Care Center is holding a FUNraising Night Out from 5 to 8 p.m., Thursday, Jan. 25, at 107 S. Northwest Highway in Park Ridge.
No coupon needed! Spread the word! 25% of all sales will be donated back to support the CCC's playground improvement fund.
Support Messiah! Eat lots!!
Quick Links
Manna Order (Updated via MannaGroup website)
ELCA Links
---
---
Want to use our space for an upcoming event? Click HERE to download our Use of Facilities Policy and Application. For photos and description of our useable spaces, CLICK HERE for a spec sheet.
Save form to your desktop, fill in the application on page 3, and email completed form back to office@messiahparkridge.org.
---
Can't find what you are looking for? Visit our Site Map.
GREETINGS!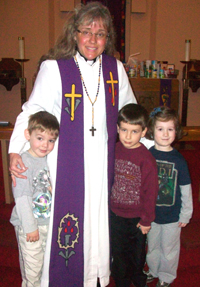 Our congregation was officially organized on May 7, 1954 with 35 people present. Since then, Messiah has thrived in the community, and has strived to make Christ's love known to all who enter our doors – through worship, through education, through our facilities, and through fellowship.
Thank you
for your interest in us. If you would like to learn more about us, or would like to become a part of the fellowship of Jesus Christ here at Messiah, please contact our pastor, either in person, by phone, by email, or with a letter. We look forward to hearing from you!