Fundraising Update
Thank you to everyone who purchased items through the Yankee Candle fundraiser. Messiah raised $193.60!
This Week at Messiah:
Assistance Ministry will be held every Monday from 11:00 am to 1:00 pm.

Gloria Dei Choir rehearsal will be held Tuesday, January, 15th at 7:30 pm.

Worship with Holy Communion will begin Sunday, January 20th at 10:15 am.

The next meeting of Quilts & Kits will be Sunday, January 20th after worship service.

February Messenger articles are due to the office by January 20th.
Looking Ahead
January 21st - EC Meeting
January 26th - Pack 105 Pinewood Derby
January 27th - 2nd Annual Roger Turek Chili Cook Off
February 3rd - Souper Bowl for Caring ends
February 9th - Brotherhood Breakfast
February 10th - Scout Sunday and Blue & Gold Ceremony
February 12th - CCC Board Meeting
February 16th - Spaghetti Dinner
February 21st - Messiah Book Club meeting
---
Quick Links
Manna Order (Updated via MannaGroup website)
ELCA Links
---
---
Want to use our space for an upcoming event? Click HERE to download our Use of Facilities Policy and Application. For photos and description of our useable spaces, CLICK HERE for a spec sheet.
Can't find what you are looking for? Visit our Site Map.
GREETINGS!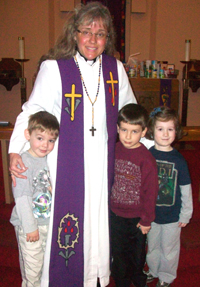 Our congregation was officially organized on May 7, 1954 with 35 people present. Since then, Messiah has thrived in the community, and has strived to make Christ's love known to all who enter our doors – through worship, through education, through our facilities, and through fellowship.
Thank you
for your interest in us. If you would like to learn more about us, or would like to become a part of the fellowship of Jesus Christ here at Messiah, please contact our pastor, either in person, by phone, by email, or with a letter. We look forward to hearing from you!