This Week at Messiah:
Assistance Ministry Monday, October 15th from 11:00 am to 1:00 pm. Please join us in serving others, and remember, we are blessed to be a blessing!

Executive Committee meeting, Monday October 15th at 7:00 pm

Gloria Dei Choir rehearsal Tuesday, October 16th at 7:30 pm. Barbara Kudirka will be leading rehearsal this week.

Messiah Book Club will be meeting Thursday, October 18th at 7:00 pm in the Friendship Place to discuss "The Dry" written by Jane Harper.
Looking Ahead:
October 21st - Crop Walk 2019. Please consider walking for a good cause. If you are unable to walk but would like to contribute please visit, www.crophungerwalk.org/nilesil to make a donation.
October 28th- Reformation Sunday
November 4th- All Saints Sunday
HARVEST FESTIVAL IS POSTPONED UNTIL 2019
Due to unforeseen circumstances the Harvest Festival is postponed until October 2019. Please look for details for all events and fundraisers in the early part of 2019. Thank you to all of those who volunteered this year and we look forward to working together to plan the next Harvest Festival.
---
Quick Links
Manna Order (Updated via MannaGroup website)
ELCA Links
---
---
Want to use our space for an upcoming event? Click HERE to download our Use of Facilities Policy and Application. For photos and description of our useable spaces, CLICK HERE for a spec sheet.
Can't find what you are looking for? Visit our Site Map.
GREETINGS!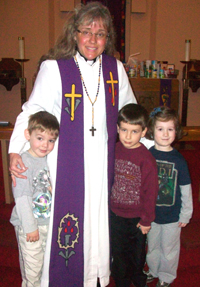 Our congregation was officially organized on May 7, 1954 with 35 people present. Since then, Messiah has thrived in the community, and has strived to make Christ's love known to all who enter our doors – through worship, through education, through our facilities, and through fellowship.
Thank you
for your interest in us. If you would like to learn more about us, or would like to become a part of the fellowship of Jesus Christ here at Messiah, please contact our pastor, either in person, by phone, by email, or with a letter. We look forward to hearing from you!