Fundraising Opportunity:
We have partnered with Yankee Candle Company beginning now and running through January 9th! Messiah will receive 40% from the total orders place through this link below. You are not limited to candles! The website has over 500 items to choose from including, small appliances, cooking utensils, lunch boxes, and so much more. All orders will be shipped directly to your home and to ensure Christmas delivery please have your orders placed by the week of December 7th. If you have any questions please contact Alaine in the office at office@messiahparkridge.org
Fundraising link: www.yankeecandlefundraising.com . Enter group number 999988307 when placing your order and double check the group name is set as Messiah Lutheran Church.
This Week at Messiah:
Assistance Ministry Monday, December 10th from 11:00 am to 1:00 pm. Please join us in serving others, and remember, we are blessed to be a blessing!

Gloria Dei Choir rehearsal is Tuesday, December 11th at 7:30 pm located in the multi-purpose Room.

The Child Care Center dance class will be performing "The Peanutcracker" Monday, December 10th in the Fellowship Hall at 11:15 am.

Executive Committee Meeting Monday, December 10th at 7:30 pm.
Looking Ahead
December 17th - Manna orders due. FINAL ORDER BEFORE CHRISTMAS

December 17th - Poinsettias orders due

December 24th - Candlelight service 10:00 pm

December 25th - Christmas Day Service at 10:15 am

December 30th - Hymn Sing Service at 10:15 am
---
Quick Links
Manna Order (Updated via MannaGroup website)
ELCA Links
---
---
Want to use our space for an upcoming event? Click HERE to download our Use of Facilities Policy and Application. For photos and description of our useable spaces, CLICK HERE for a spec sheet.
Can't find what you are looking for? Visit our Site Map.
GREETINGS!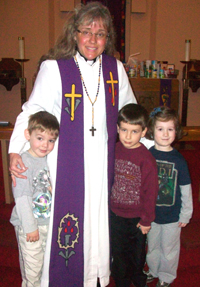 Our congregation was officially organized on May 7, 1954 with 35 people present. Since then, Messiah has thrived in the community, and has strived to make Christ's love known to all who enter our doors – through worship, through education, through our facilities, and through fellowship.
Thank you
for your interest in us. If you would like to learn more about us, or would like to become a part of the fellowship of Jesus Christ here at Messiah, please contact our pastor, either in person, by phone, by email, or with a letter. We look forward to hearing from you!