This Week at Messiah:
Tuesday, September 25th Gloria Dei Choir rehearsal 7:30 pm in the Multi Purpose Room

Wednesday, September 26th Bulletin articles due to church office.

Sunday, September 30th, Christian Learning Hour (CHAT Room and Confirmation) at 9:00 am, Worship at 10:15 am, School kit packing and quilt assembly for Lutheran World Relief at 11:30 am.
Looking Ahead:
October 1st - Packing LWR Quilts & Kits at 10:00 a.m.
October 3rd - Nadia Bolz-Weber speaking
October 6th & 7th - LWR Truck at Messiah

October 13th Brotherhood Breakfast at Jimmy's Restaurant in Des Plaines, IL

October 18th Messiah Book Club at 7:00 pm

October 20th - Harvest Festival & CCC Open House
October 20-28th - Pumpkin Patch
October 21st - Crop Walk
HARVEST FESTIVAL IS COMING!!
Harvest Festival is October 20th. Help is needed in various areas - contact Alaine in the Church Office to see how you can help! We also need crafters/vendors for the festival - if you know anyone who might like to sell their wares - contact Alaine at office@messiahparkridge.org or call at
847-823-6984!
---
Quick Links
Manna Order (Updated via MannaGroup website)
ELCA Links
---
---
Want to use our space for an upcoming event? Click HERE to download our Use of Facilities Policy and Application. For photos and description of our useable spaces, CLICK HERE for a spec sheet.
Can't find what you are looking for? Visit our Site Map.
GREETINGS!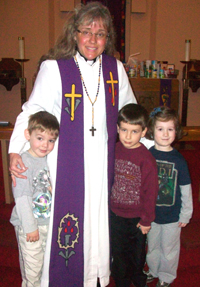 Our congregation was officially organized on May 7, 1954 with 35 people present. Since then, Messiah has thrived in the community, and has strived to make Christ's love known to all who enter our doors – through worship, through education, through our facilities, and through fellowship.
Thank you
for your interest in us. If you would like to learn more about us, or would like to become a part of the fellowship of Jesus Christ here at Messiah, please contact our pastor, either in person, by phone, by email, or with a letter. We look forward to hearing from you!