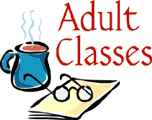 Everyone not in Sunday School or Confirmation
is invited to join our

CHAT–Christians Having A Talk.
A variety of topics will be discussed over coffee and treats in the Library. Our lesson topics are also often listed each month on PAGE 6 of the Messiah Messenger, as well as any special speakers, service projects, or any mission activities that may come up.

The CHAT Room is in session September through May in the Library.